Worlds Collide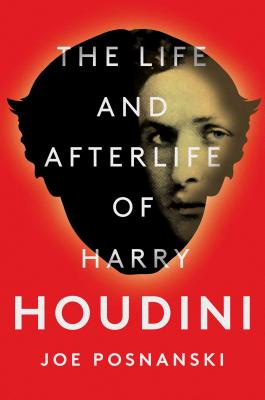 It is always fun when my worlds collide. It doesn't happen often. One of the wonderful parts about being a sportswriter writing The Life and Afterlife of Harry Houdini is that my worlds almost NEVER collided. That is to say, few in sports seem to care much about magic and even fewer in magic seem to care about sports. As the brilliant magician Joshua Jay says, "The Venn Diagram between magic and sports is basically nonexistent … it's like two separate circles."
He's joking, of course: Josh himself is a huge sports fan, particularly the NBA. One of my favorite people in the book, magician and writer Jamy Ian Swiss, is a die-hard Yankees fan. There are plenty of others.
But it is true that when you enter the magic community, you are generally leaving the sports world and vice versa.*
*This is funny because one of my contentions in the book is that Houdini was, in many ways, as much an ATHLETE as he was a MAGICIAN. I'll talk about that more in a later installment.
Anyway, that's why I am SO happy when an opportunity comes along to mis a little sports and magic. And that opportunity came along this week.
The Kansas City Royals — in a minor move that almost nobody inside the baseball world noticed, much less outside — picked up a minor-league infielder. He is 27 years old, and bluntly he's not a prospect. He had been in the Pittsburgh Pirates system for seven seasons, and he did make it up to Class AAA, the highest level of the minor leagues. But he has fizzled there while dealing with injuries and inconsistency. The Royals picked him up for depth, I imagine, and on the off-chance that he can put something together — everyone in baseball seems to like this kid and admire his work ethic and hope for the best for him.
So what does this have to do with our book?
The kid's name is Erich Weiss.
I made a joke about this one on Twitter — it seems like about half the people got it. See Erich Weiss (well, technically, Ehrich Weiss, but close enough) was Harry Houdini's birth name. That was his name until he and his friend Jacob Hyman read a glorious book called "Memoirs of Robert-Houdin," the autobiography of the father of modern magic Jean Eugéne Robert-Houdin. Together, they added an I to the last name (which they thought was pronounced Hoo-DEEN", rather than the actually "OOO-dan") and, well, there is a whole fun chapter in the book about the name Houdini. Two, in fact.
Anyway — Erich Weiss the baseball player! The Baseball Houdini!
So I looked him up, fully expecting to see various Houdini puns and jokes to litter the stories about him. And, actually, no. As far as I can tell, this is the very first Erich Weiss story to make mention of Houdini. That seems impossible to me.
Here's some basic information on Erich Weiss (the baseball player). He's from Texas — Brenham, Texas to be exact, the county seat of Washington County, which is sometimes called the "Birthplace of Texas." According to Wikipedia, Brenham is the home of the World Largest Barbecue Pit AND the headquarters of Blue Bell Ice Cream, which has to make it one of the most delicious places on earth. I mean, barbecue and Blue Bell? I'm going to Brenham next time I'm in Houston.
For baseball fans, Brenham is the birthplace of Cecil Cooper.
For Stranger Things fans, Sadie Sink (Max) is from Brenham.
OK, that's about all I have about Brenham.
Erich Weiss is the son of Gary Weiss, who played briefly for the Los Angeles Dodgers in 1980 and 1981. Gary got 19 big-league at-bats and managed two hits. He got both hits in the same game against the Reds and pitcher Mario Soto.
So, Erich was born for baseball. He was an all-star high school player — as a senior, he hit .506 and led his team to the state championship — but he wasn't drafted or heavily recruited. Apparently there were some concerns about his body type. He's tall (6-foot-2) but slight. He was ready to go to Junior College to get stronger.
But then, more or less at the last minute, he received an offer to play at the University of Texas. And he was ready — he got hits his first five times to play. He hit his first grand slam ("It was pretty cool," he told a reporter). For much of his freshman year, he led the Big 12 in on-base percentage while playing just about every position — he was named the conference freshman of the year. His coach Augie Garrido called him "A surprise and a fantastic one."
He was named to the All Big 12 team as a sophomore and junior, and the Pirates drafted him in the 11th round. They praised his baseball acumen. But it is so tough to break through in baseball. Weiss does many things well, but he doesn't do anything SUPER well, which is what separates the good and the great. He is not especially fast, doesn't hit with power, doesn't hit for a high average and, as a defender, he plays many positions but doesn't play any of them well enough to be superior. He keeps plugging away though because he loves the game; it would make so many people in baseball thrilled if he could break through because he's just one of those guys you root for.
But … where's the Houdini stuff? I can't imagine that Weiss himself has not heard about the connection but the Royals were completely unaware that he shares Houdini's name. I have yet to find a story that says he "escaped with a walk," or that he's hoping to "get out of a slump the way his namesake got out of handcuffs." I have not heard even one person who calls him "The Magician."
It's not right.
But this is what I mean about world's colliding — there really isn't much crossover between baseball and Houdini.
Well, there IS this: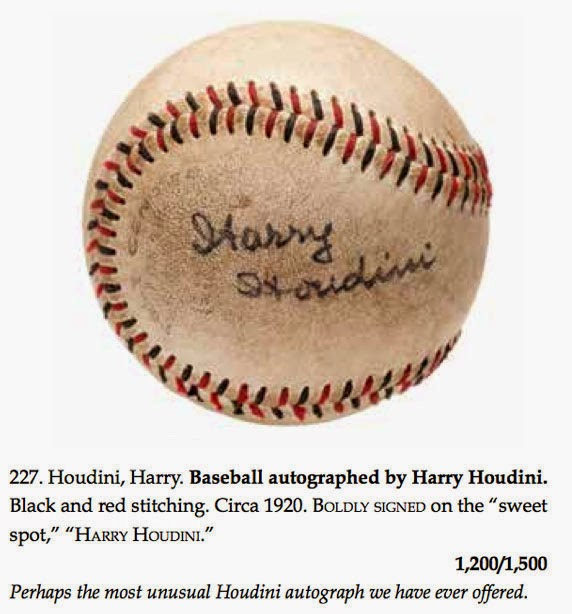 This Harry Houdini autographed baseball was supposed to go into auction in 2014 but somehow did not. He signed this baseball in 1920, right around the same time that — as my friend Tom Shieber at the Baseball Hall of Fame pointed out — he briefly seemed interested in buying the Oakland Oaks baseball team (though that ended up going nowhere).
Anyway, I'm rooting hard for Erich Weiss.