Signed books and Covers!
Well, this is the fun part. The book is done, it's being printed, we will begin to get copies back over the next week or so. We're setting up events, we're setting up media coverage, we're coming up with all sorts of wacky ideas*, we're asking people to pre-order. After years of solitary work — all that lonely writing and reporting and self-doubt — we're now about to set sail, and it's so thrilling.
*I have the most AMAZING idea if we can get the book into Costcos. If you have any pull at Costco, reach out, you'll love this.
So after a few words about the cover — hey, I want to give you some actual content here — I will begin telling you a little bit about what we have planned and how you (yes you!) can get a signed copy of The Life and Afterlife of Harry Houdini.*
*If you only care about the signed book option, you can just skip to the bottom.
---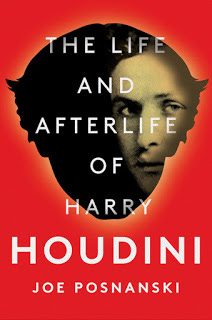 I love this cover so, so much. What you have to understand is that finding a cover for your book is quite often a pretty awful deal. I had a fairly nightmarish experience with the covers of each of my first four books. The hard cover of my last book, The Secret of Golf, ended up being a plain dark green cover with the words in white gold lettering. It was elegant, I think, but simple — if you looked at it you would think it took us about five minutes to think of it.
It actually took, I believe, 57 different covers and three months to get there. You wouldn't believe how much angst was involved in that one.
But not for Houdini. This cover, the one you're looking at, was the FIRST IDEA they offered. They sent me two or three variations of covers, and this was one of them, and I was like: BAM! THAT'S IT! This process was so quick and painless that I don't think any of us trusted it: Everyone was like, "Are you sure? Don't you want to look at other options?" And they did send other options.
This was the one. The more covers they sent, the better this one looked.
I love it so much. It precisely captures what the book is about, in my mind. What I'm saying is: In my case, yes, you CAN judge this book by its cover.
---
My first week of the book tour is almost finalized. I should probably wait until it totally is finalized but, you know, I'm impatient. It's a problem, actually. I'm constantly blurting things out before they're 100 percent confirmed, which often leads to those things getting ruined. So it goes. We have to live our lives, right?
So here's how my first week on the book tour sort of looks!
Oct. 18-19: Book Bash, Cheyenne, Wyoming
The tour begins in Cheyenne! It's a long story how that happened, but I couldn't be more thrilled. For one thing, I've never been to Cheyenne, but I've heard so much about how beautiful it is. And I LOVE visiting new places. I cannot wait (and the good folks in Cheyenne will get the book THREE DAYS before it's in stores. Yes, my gift to Wyoming).
Oct. 20: Working on something really cool here. It's tentative enough that even I won't just blurt it out.
Oct. 21: The Last Bookstore in Los Angeles.
This is what I would call the book launch party and it's in an absolutely amazing bookstore and I'm going to be joined by an amazing guest/co-host. I'm not going to give that one away just yet but let's just say he's awesome in every way.
Oct. 22: Writer's Blok in Los Angeles
The Writer's Blok is Paul Shirley's baby — you might remember Paul from his professional basketball days and his amazing book "Can I Keep My Jersey: 11 Teams, 5 Countries, and 4 Years in My Life as a Basketball Vagabond." Anyway, Writer's Blok is like a writers' yoga studio, you hang out with other writers, feed off their energy, talk with them, gain inspiration from them, it sounds amazing. And I'll be there to talk some writing.
Oct. 23: Vroman's Bookstore in Pasadena
Well, this is pretty great, Another amazing bookstore, and I'll be doing this event with one of the world's leading Houdini experts (and one heck of a nice guy), John Cox! We'll tell you all about how we walked around a cemetery! There's also chance that one of the most remarkable people in all of magic might be stopping in. Star-studded! I can't even wait.
Oct. 24: Rainy Day Books in Kansas City
I told you last week that Rainy Day is my favorite bookstore. This obviously is going to be amazing.
The second week will be every bit as incredible. Just wait until you see who will be joining on the tour.
And then third week is looking awesome too. I can't even believe how great this is all going to be.
---
Wait, before I go, I mentioned in the headline something about signed books.
So, here's the deal: I hope to see each and every one of you at one of the upcoming events. We have a bunch of cities lined up (or mostly lined up).
But, let's be honest: I won't see each and every one of you. You're busy!
So, in coordination with Rainy Day, we're offering what I hope is a pretty cool deal. If you preorder the book from Rainy Day Books at this link — remember, this has to be a preorder, so it has to be purchased before Oct. 22 — I will sign your book, personalize it, write a little message in there, tell you that fruit pie is delicious, tell you who No. 43 is on my list of the 100 greatest baseball players, whatever you want.
And even if you don't want it, let's be pratical. Halloween is coming soon, and this is the perfect Halloween gift! Also: Other holidays!
So, again, just preorder from Rainy Day — postage fees apply if you want it mailed — and I'll sign and personalize your book however you like*.
*The author reserves the right to decline unreasonable requests such as inscribing "I love the Intentional Walk!" or "Broken Wings is actually a great song."