A Little Houdini
This is the first part of the Little Houdini series that my daughter Katie and I are putting together. Here, Houdini escapes from ropes and handcuffs. Coming up: The Chinese Water Torture Cell.
There's so much happening on the Houdini front now that we're 10 days from publication date. I'm doing a million interviews, which should start running shortly. I spent today talking with some media in Cheyenne, where the "Did I Mention" tour begins on Oct. 18, a week from today. I'll be starting this wild ride at the Laramie County Library Booklover's Bash … my first time in Cheyenne.
I was on the radio today saying that I was particularly excited because I looked at the date, Oct. 18, and figured that was the perfect time to get some crisp fall weather in Wyoming.
I was apparently the only person in the world unaware of the fact that Cheyenne was already blitzed with a snowstorm this week.
"I'm sure that it will melt by the time you get here," the interviewer kindly said. Reassuring.
Anyway, here's the calendar: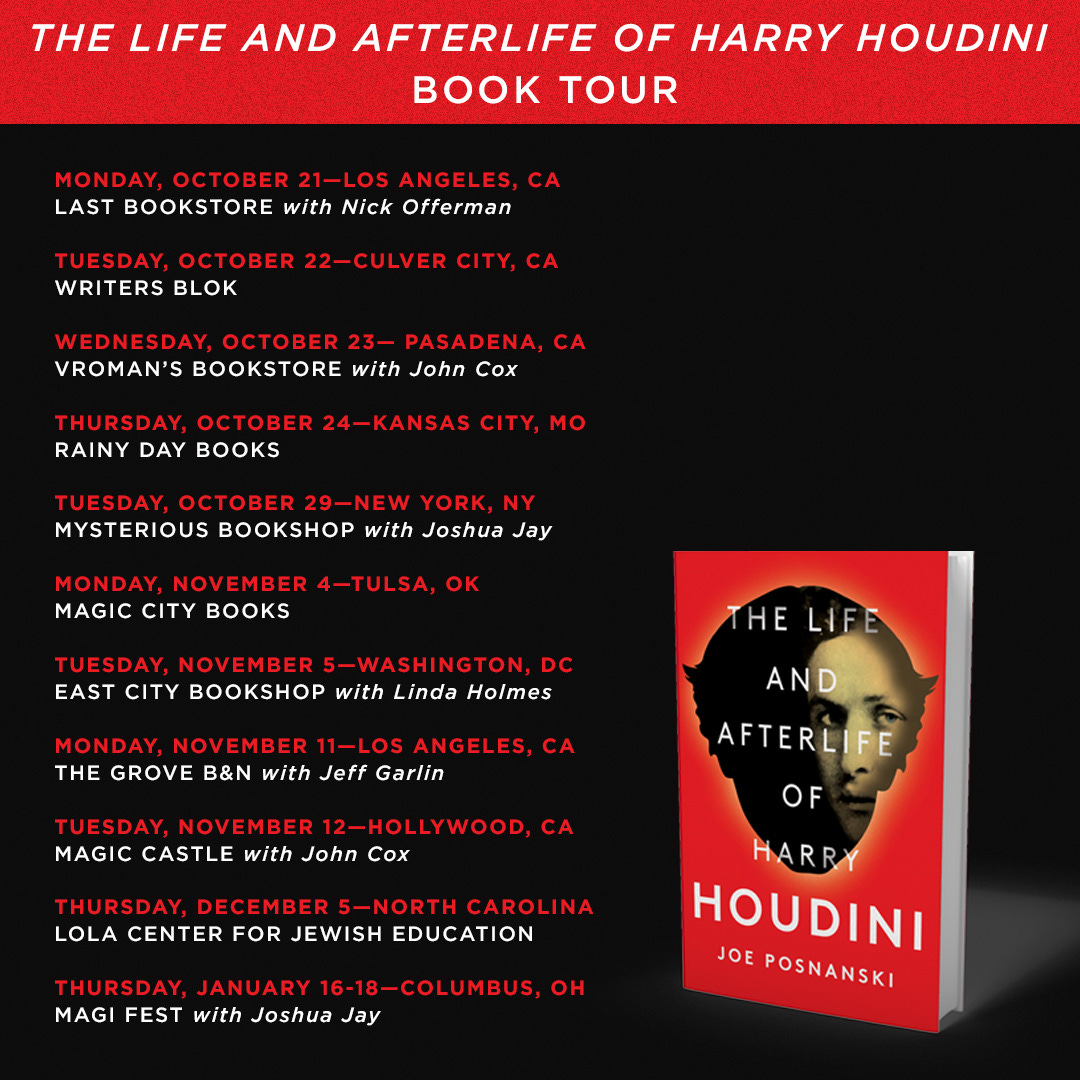 A few things to add to the calendar: On Oct. 17, just before I take off from Charlotte, I'll be doing an event in our town. If you're anywhere near here, I'd love to see you — you can RSVP here or on Facebook … you don't HAVE to RSVP, but it would be helpful. I'll be joined by the great writer Tommy Tomlinson, and I think we'll have a little magic as well.
Then, you can see what's after that. Here are some links:
Los Angeles: Me and Nick Offerman on Oct. 21 at the Last Bookstore. I have no idea how I got so lucky …
I'm talking writing with former NBA player and soon-to-be novelist Paul Shirley on Oct. 22. You can buy tickets here.
I'll be joined by the world's leading Houdini authority (as far as I'm concerned) John Cox at Vroman's in Pasadena on Oct. 23.
Off to Kansas City on Oct. 24. I'd love to see you at the event but, in case you can't make it, Rainy Day Books, for another 10 days, will be offering you the opportunity to get a signed and inscribed book — and remember, I'll sign it with any inscription you like, within reason. I have seen Pete Rose sign baseballs with the inscription "I'm sorry I bet on baseball." I will not do that.*
*I'm told that we already have received hundreds of orders, so I have begun my book-signing spring training. I feel like my arm is in the best shape of its life.
I'm telling you right now that my event at the Mysterious Bookshop in New York will be one of the real highlights of this tour because I'm doing it with the great Joshua Jay, who, no kidding, is one of the greatest magicians in the entire world. He's absolutely incredible. And he's such a good guy … you can reserve a spot here. As of right now, this will be my only New York public event on this go-around … working on something, but this might be your one chance in New York for a while, and it will be great.
Here's a new event! On Nov. 1, I'll be in Scranton, Pa. at the Houdini Museum with the legendary Dorothy Dietrich and Dick Brookz! I'm not kidding, if you are anywhere near Scranton you owe it to yourself to come out to the museum and see Dorothy in action. She is the first woman to saw a man in half on television! She is the inspiration for the Isla Fisher character in "Now You See Me!" And she and Dick are so much fun. No need to RSVP for this one, just get your ticket and come on out.
Later, we have Tulsa. I'm back in LA in the middle of November to do an event with the incredible Jeff Garlin and also to make my first appearance at the Magic Castle (!). More to come. Thank you all so much for sending in your tour-stop requests; I'm trying to add more cities. I'd love to come to your town.
I'll probably start sending daily updates next week — just a warning. I really am incredibly excited about this book coming out, and incredibly excited about sharing it with all of you.
A final word: I know that there is not much oxygen left these days for anything but the political whirlwind that surrounds us — you look away for even 10 minutes and 10 new stories break. Meanwhile, here I am telling a story about magic and wonder and a Vaudeville performer from a century ago. It's hard to break through.
But it's a good story, and a fun one and, in an odd way, I think it's an important one too. Houdini survives in our collective memory in large part because he could get out of anything. He escaped. That's such a powerful idea. Escape is a hope and a prayer and a wish and a dream. We feel it deeply in our lives, perhaps more than ever. I'm not saying that there are Houdini instructions inside. I'm just saying that there might be a little bit of escape.